If you're searching for a bingo site offering 3x the fun, then maybe Bingo 3X is the brand you've been waiting for!
But is it really 3x the fun?
Or is it 3x the loss?
Read our honest Bingo 3X review to find out!
About Bingo 3X
Bingo 3X is a fairly well-established bingo brand owned by the popular 888 Group, who launched them in 2012.
The Bingo 3X website is standard to most 888 Group sites, with a copy/paste layout. The color scheme also isn't exactly appealing and there is no discernible theme, though the site is still responsive and easy to navigate. 
Per usual, 888 Group's Great Britain Gambling Commission license ensures their UK operations are legal.
If you need help, you can contact Bingo 3X via:
Live Chat
UK Phone – 0800 901 2510 (10 AM to 2 AM, UK time)
Email – help@bingosupport.org
What Bingo Games Does Bingo 3X Offer?
Bingo 3X offers the usual assortment of 90 ball, 75 ball, and 52 ball (AKA Swedish bingo) games spread across 7 lobbies. These run frequently, daily, weekly, and monthly.
The ticket prices range from 1p to £1 each for the regular games, which attract between 5 and 50+ players at a time (usually around 10), with prize pools of £1000+.
For games with a dedicated or progressive jackpot (reaching up to £1,000,000), the tickets cost anywhere up to £10 each.
These games also attract higher player activity (up to 2,600+ players!) and run less frequently.
Bingo 3X also offers a few free bingo games, but a deposit is necessary before they become accessible.
Special Games
Bingo 3X offers 888 Group's typical spread of special games: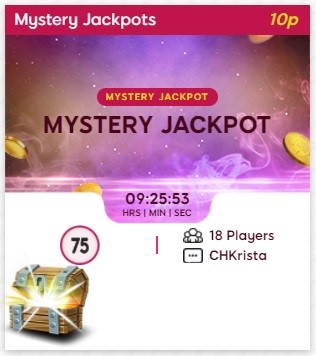 Mystery Jackpot will always have a place on most 888 Group sites, Bingo 3X included!  
As the name implies, the jackpot remains a mystery until just before the room opens. Based on what other 888 Group sites revealed, the jackpot is randomly selected to be between £10 and £500.
Bingo 3X offers a 75 ball version and tickets cost 10p.
Bingo Roulette is another bingo game guaranteed to be on most 888 Group sites.
Like the casino game, a roulette wheel is spun to determine numbers called out. Players then cover the called numbers with casino chips.
If you cover all 5 numbers, you'll definitely have 3x the fun.
The 52 ball bingo game is open daily and tickets cost 5p.
Last up is Millionaire's Night. Bingo 3X's big-ticket 75 ball monthly game has a £1,000,000 jackpot up for grabs.
The best part? Tickets only cost £1 each!
Playing at Bingo 3X
The member's area at Bingo 3X is similar to its sister sites, with a red and white design and the typical (albeit responsive and user-friendly) layout.
The member's area is also responsive on all device types, mobile browsers included. On-the-go bingo players will especially appreciate this, as the brand offers no dedicated mobile apps.
Bingo 3X uses the Dragonfish software.
They also offer a basic rewards system, although it isn't openly advertised. Instead, we found the Bingo 3X Loyalty Club when perusing their Terms & Conditions.
Essentially, players earn loyalty points when they make deposits in their account. Those loyalty points can later be exchanged for bingo bonus cash.
Finally, as always, you need to provide ID when creating your Bingo 3X account.
Bingo 3X Reviews
Bingo 3X has been around for a "hot minute", but we were only able to source 10 user reviews for them online.
Amazingly however, the brand walks away with 4.20/5 stars.
Players did have some complaints, such as Bingo 3X being too similar to its sister sites and poor payouts:
However, most reviews praise Bingo 3X for being fun, having great chat hosts, huge jackpots, and for being user-friendly:
Overall, they have some good reviews and nice games to play but we would recommend checking out our list of the best online bingo sites before joining.
And don't forget to leave your review below if you've played at Bingo 3X.